Reservations and orders:
Central reception:
tel.: +420 234 678 111
email: suz-recepce [at] cvut [dot] czclass="spamspan"
Hostel Hlávkova kolej
tel.: +420 234 678 343, +420 234 678 344
email: hostel [at] cvut [dot] czclass="spamspan"
Welcome to Hlávka Dormitory Hostel
Hlávka Dormitory was built at the initiative of world-renowned architect Josef Hlávka, who had it built for poorer students who showed excellent academic results. It was built between 1902 and 1904. The dormitory had all the latest facilities in its time, e.g. its own gym, bakery and a kitchen where anyone could cook and enjoy as much fresh bread as they wanted, something other students also often took advantage of. They say that Hlávka refused to buy even a new pot for his own housekeeper, but he fitted out the new dormitory with modern and expensive Rott copper pots (source: wikipedia.cz). Other renowned works of architecture designed by Josef Hlávka and his pupils include, e.g., the Vienna State Opera and thr provincial maternity hospital, U Apolináře in Prague.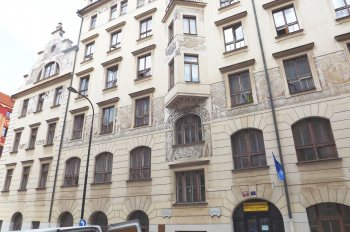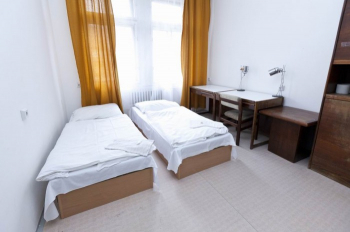 Hlávka dormitory is situated in the centre of Prague (Prague 2). At the current time, it is part of the CTU Service Facilities Administration and it is primarily used for accommodating students during the course of the academic yearIt includes a total of 220 beds in residential units with their own sanitary facilities. There is a shared kitchenette on each floor. During the summer holidays, the two-bed rooms on Floor 1 and Floor 2 are offered at very attractive prices to the public as hostel accommodation. This gives you the unique opportunity to live in the same rooms as future nuclear engineers, transport experts and artificial intelligence specialists, yet stay a stone's throw from the centre of Prague.
Karlovo náměstí metro station (Line B) is roughly 3 minutes from Hlávka Dormitory. If you prefer to get around on foot, you can walk one block to the Vltava embankment, around Mánes gallery to the National Theatre continue on to Old Town Square and take a look at the historical astronomical clock. Or you can visit Wenceslas Square with the newly renovated National Museum building, then take a little time out in the Franciscan Garden and all within 15 – 20 minutes of your accommodation. Flower lovers can visit the greenhouses and outside area of the Charles University Science Faculty's Botanical Garden, roughly 7 minutes by foot from Hlávka Dormitory.
Hostel Equipment
Payment by card