Opening hours of accommodation office
| | |
| --- | --- |
| Monday | 8.00 – 10.30   12.00 – 13.00 |
| Tuesday | 8.00 – 10.30   12.00 – 13.00 |
| Wednesday | 8.00 – 10.30   12.00 – 13.00 |
| Thursday | 8.00 – 10.30   12.00 – 13.00 |
| Friday | 8.00 – 10.30 |
Contact for economic managers and accommodation offices:
tel.: +420 234 678 422
email: kolej-bubenec [at] cvut [dot] cz
Manager of Bubeneč, Orlík, Sinkuleho and Dejvická dormitories:
tel.: +420 234 678 421
email: kolej-bubenec [at] cvut [dot] cz
Bubeneč Dormitory
Situated in a quiet location on the border between the city districts of Dejvice and Bubeneč, near the university campus.
Before 1989 it was called Zhdanov Dormitory after the Soviet communist politician and ideologist Aleksandrovich Zhdanov. Due to its unmistakeable charm and reminders of "old times", it was much sought-after, particularly among film crews. Unfortunately it no longer suited the modern way of student accommodation, and the building was closed for several years for reconstruction.
The reconstructed dormitory offers:
accommodation units with two 2+2 double rooms
(bedrooms with a common hall, kitchenette and private sanitary facilities),
6 accommodation units with two 2+1 rooms
(one double, so-called "partner" room, and one single room with a common hall, kitchenette and private sanitary facilities),
3 separate double rooms
(with a hall, kitchenette and private sanitary facilities),
6 separate single rooms
(with a hall, kitchenette and private sanitary facilities),
2 accommodation units for Persons with Reduced Mobility. Each unit has a bedroom for the immobile person, a bedroom for the assistant and a hall. Each unit includes a kitchenette with a stove, and sanitary facilities that meet all regulations and requirements.
Note: Kitchenette – kitchen worktop, cupboards and built-in fridge. Sanitary facilities – bathroom with shower and washing basin, and toilet with closet and washing basin.
The total capacity of the Bubeneč Dormitory is 378 beds.
Furthermore, guests can avail of two common kitchenettes on the 1st – 3rd floors, and one common kitchenette on the 4th floor. Each kitchenette has two combined stoves and a microwave oven. The kitchenettes also include tables and chairs for dining.
The Student Club is designed as a two-floor space with its own bar and sanitary facilities. The club also includes a a study and a meeting room.
There is also a bicycle room, a luggage room, a laundry room and a drying room with lockable cubicles; every room in the dormitory is connected to the data network.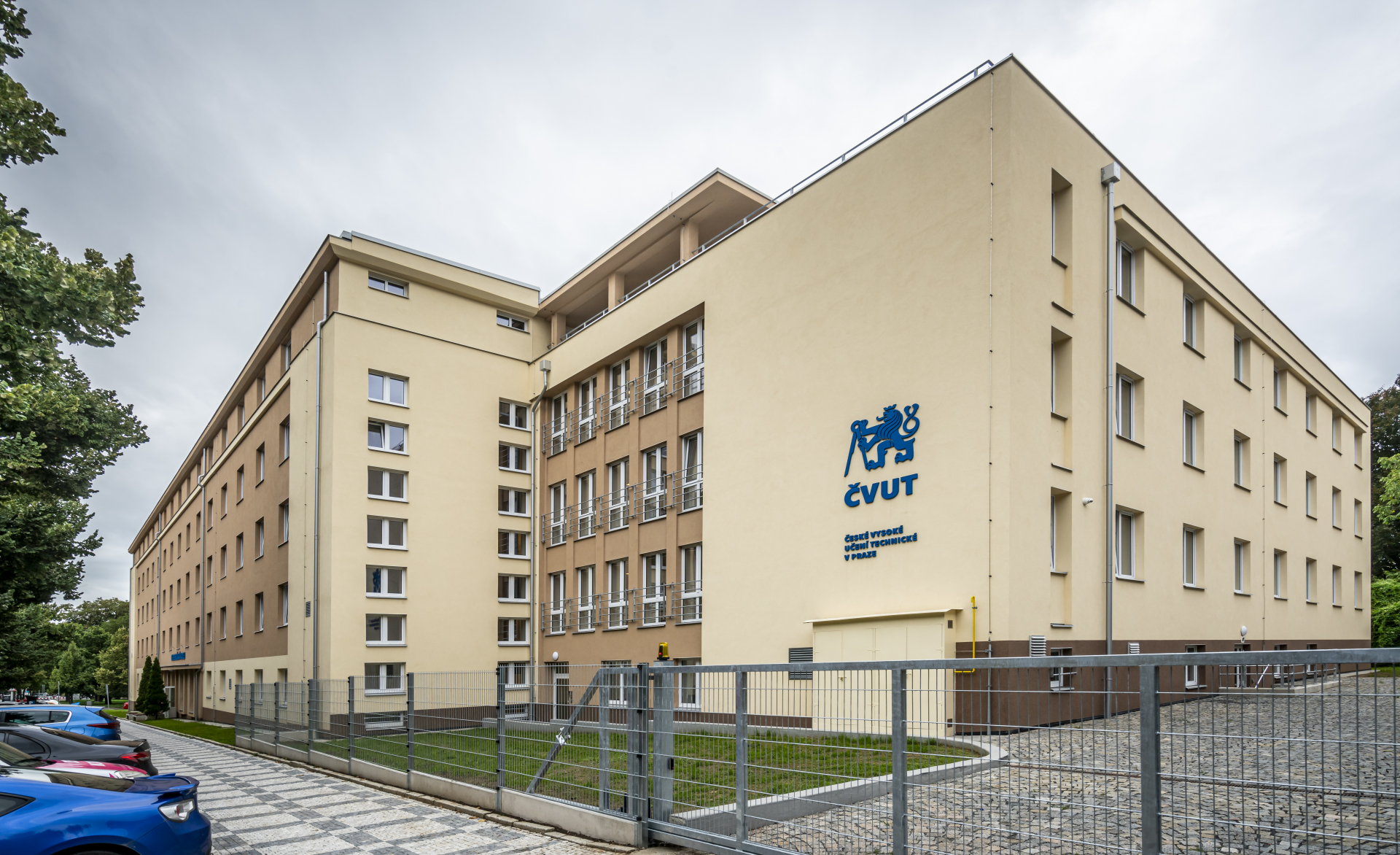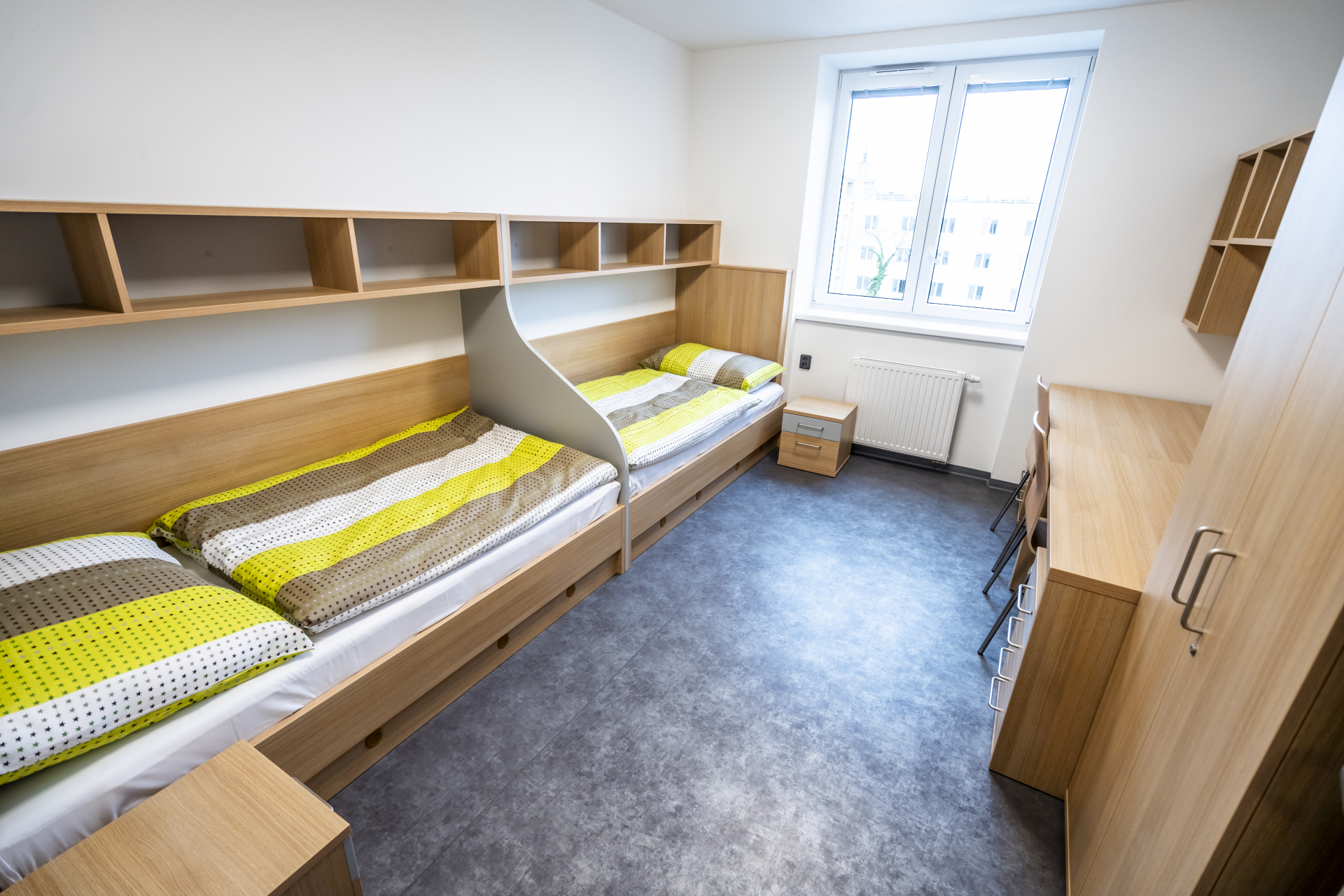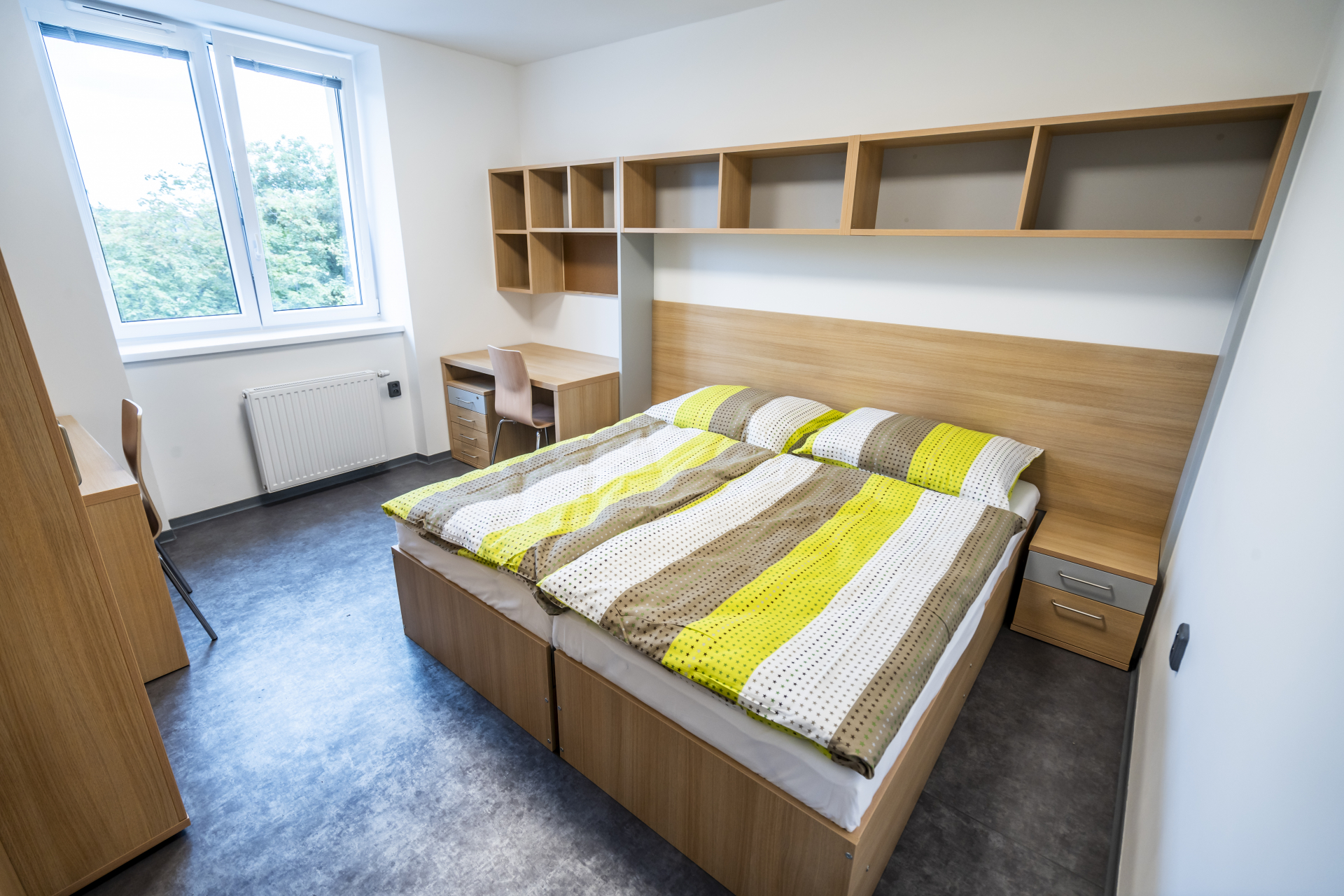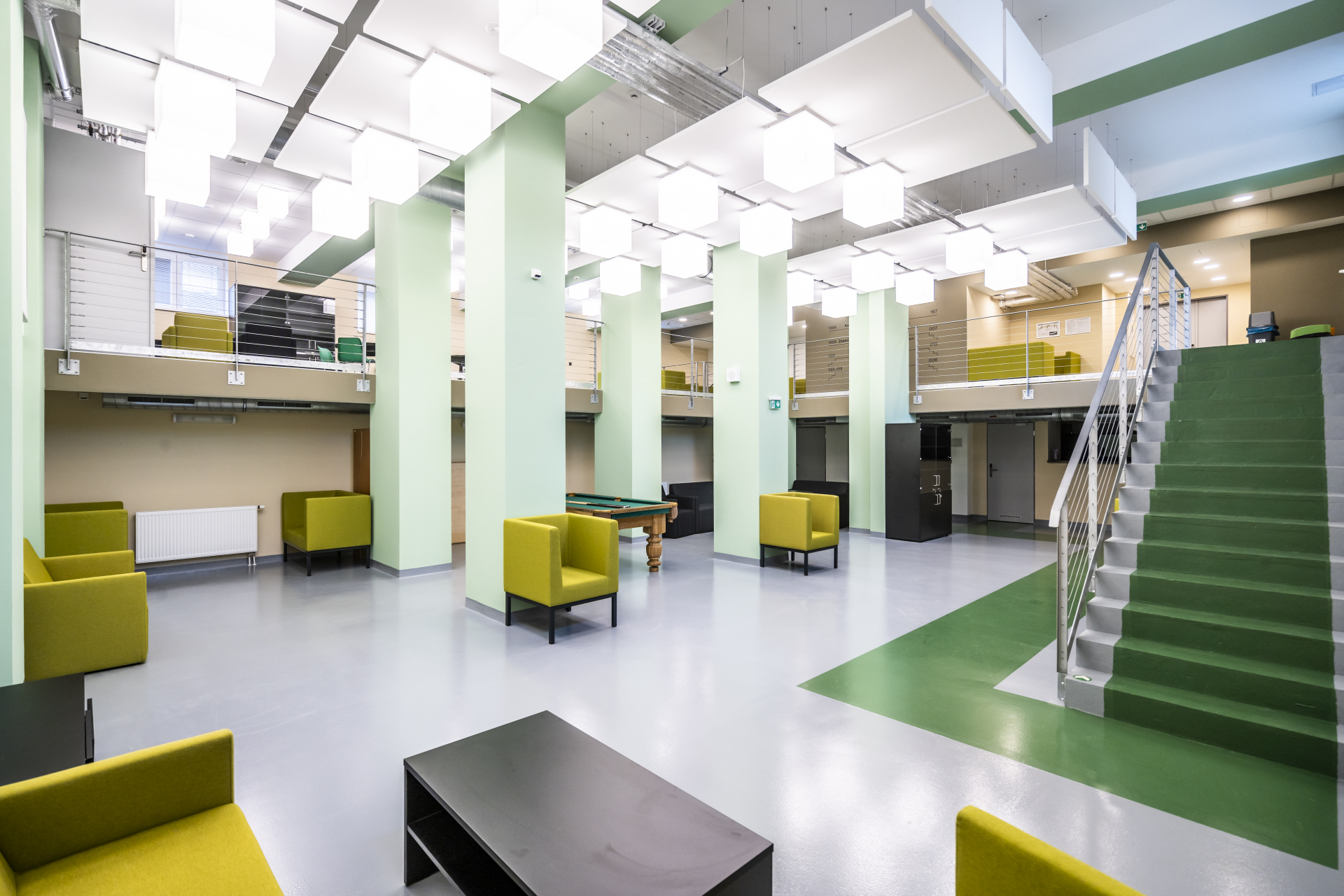 For leisure time there is a study, an illuminated outdoor pitch with an artificial surface, a gym, a garden grill with stylish seating that can be covered with a canopy in the event of bad weather, and seating on the roof terrace. In front of the common kitchenettes, there are relaxation zones with armchairs and conference tables.
Accommodation in the Bubeneč Dormitory is especially sought-after among students who attend lectures in the University Campus Dejvice complex, approximately 10 minutes' walk away. Meals are available in canteens that are part of the campus – in the Technical Canteen or further away in the Student House Canteen.

The Bubeneč Dormitory has excellent transport connections, the Dejvice metro stop being approximately 8 minutes from the dormitory. The Praha-Dejvice and Praha-Podbaba train stations, which are part of Prague Integrated Transport, are also in the vicinity. Nearby (beside the Orlik dormitory) there is a branch of the Penny Market retail chain, which is very popular among students. The Kaufland food store, with a wide range of goods, is immediately beside the dormitory.
Dormitory equipment
Kitchenette
Washing machine and dryer
Vacuum cleaner
Playing field
Gym