Reservations and orders:
Reception:
tel: +420 234 678 600
email: rezervace-mk [at] cvut [dot] czclass="spamspan"
Hostel manager: tel.: +420 234 678 460, rezervace-mk [at] cvut [dot] cz
Masaryk Dormitory Hostel
Masaryk Dormitory is particularly attractive in the way it brings history and modern construction together. It is located in a residential area of the Prague 6 neighbourhood. A key advantage is its location, with great accessibility to either the city centre or the motorway network. Václav Havel International Airport is just a 20 minute car journey away. Over the course of the academic year, the dormitory is primarily used to house and dine students and hotel guests. In the summer months, however, a hostel is run within the student dormitory premises.
This offers guests a unique opportunity to bring together a tour of Prague's historical sites with competitively priced accommodation in quiet surroundings. You can also order breakfast in addition to lodgings, and this is served from buffet tables in the Academic Restaurant. You can park at an extra fee within the Masaryk Dormitory enclosed site.
Range of hostel rooms:
residential unit system with facilities – two- and three-bed rooms
kitchenette, bathroom and toilet shared between two to three rooms.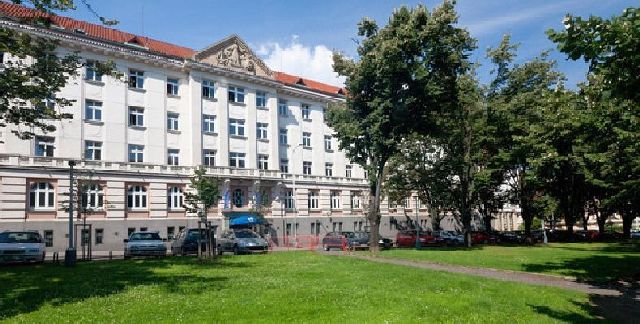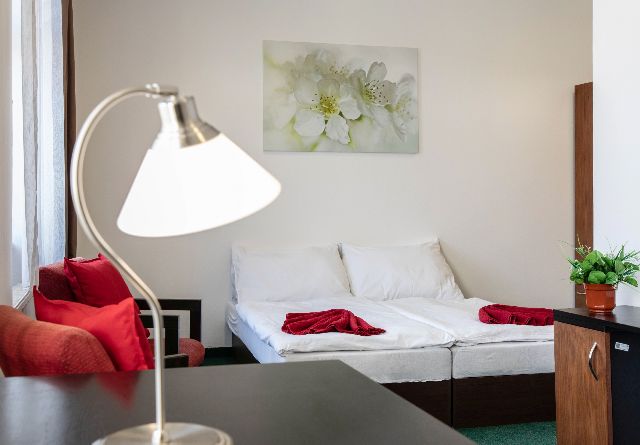 There are many stores, cafés and restaurants in close proximity to Masaryk Dormitory. You can take advantage of the large Stromovka park and the multi-purpose "Pod Juliskou" sports centre during your leisure time, or you can make use of the Petynka outdoor pool or nearby Divoká Šárka valley for bathing in summer. The romantics amongst you will appreciate the accessibility of Strahov, right next to Petřín hill with its extensive gardens, viewing tower, maze and funicular railway, which can be used for faster access to the city centre. History lovers will appreciate that Prague Castle is within easy reach, surrounded by many historical buildings.